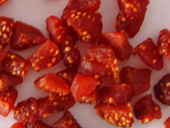 Bright color, cute shapes are reasons why people prefer the diced and dried strawberries. The organic dried strawberries guarantee you can have high quality strawberries nutrition with low price.

One of our most delicious dried fruits, dried strawberries are a customer favorite! Excellent for cereals, muffins, cakes, and snacks. Our organic strawberries are sold in bulk and have engendered praise from many buyers.
Copy Right © Anyang General Foods Co., Ltd.