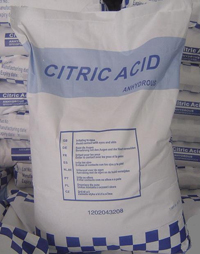 Citric Acid Anhydrous
Molecular Formula: C6H8O7
Molecular Weight: 192.12
CAS No.: 77-92-9
Product Characters:White Crystalline Powders, Colorless Crystals or Granules
Executive Standards: BP/USP/FCC/EP/GB
Packaging: 25kg net composite paper-plastic bags or 3-ply kraft paper bags with PE liner,500kg or 1000kg net PP woven Jumbo bags
Storage: kept in a light-proof,well-colsed,dry and cool place
Main Usage: Citric Acid is mainly used as acidulant,flavoring agent, preservative and antistaling agent in food and beverage industry. It is also used as antioxidant,plasticizer and detergent in chemical,cosmetics and cleaning industries. If you're engaged in juice production industry, here are some fruit juice processing equipment.
Specifications:
Item
Standard
Content, %
99.5-101.0
Clarity and color of solution
20% Water solution clarity
Water
≤0.5
Sulphated Ash, %
≤0.1
Sulphate, ppm
≤150
Chloride, ppm
≤50
Oxalate, ppm
≤100
Calcium, ppm
≤200
Heavy metal, ppm
≤5
Iron, ppm
≤50
Bacterial endotoxin, IU/mg
≤0.5
Arsenic, ppm
≤1
Mercury, ppm
≤1
Lead,ppm
≤1
Aluminium ppm
≤0.2