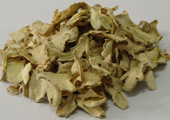 For the sake of preserving the original taste of ginger, the dehydrated ginger flakes are dried in the sun. It is tested that the dehydrated ginger soup and tea have a special effect to cold.

Dehydrated whole ginger is part of traditional Chinese medicine for rich nutrition and benefis. The dehydrated whole ginger in AGICO makes sure you have the natural dried ginger, and it is healthy for all ages.
Copy Right © Anyang General Foods Co., Ltd.