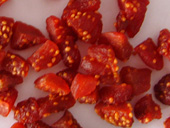 Specifications:

SO2 100 ppm max;
Moisture 18-22%;
Sugar 65% max;
Packed in 12.5 kg carton inner with food grade poly bag liner, 17.5MT/20'FCL.
Diced dried strawberries are ideal ingredients to dishes and porridges. The diced dried strawbeeries are known for characteristic aroma, bright red color, cute shape and sweet taste. The drid strawbeeries are wildly used in cookies, pies, juice, ice cream and milkshake. It is said that food suppliers prefer the dried diced strawberries.

Health Benefits of Organic Dried Strawberries:
1.One cup of strawberries contains 4 grams of dietary fiber. A diet high in fiber can have benefits throughout life. Dietary fiber has well-known health benefits such as lowering blood cholesterol and promoting a healthy digestive system. This in turn may decrease the risk of heart disease and certain types of cancer.
2. Strawberries have only 50 calories per serving and no cholesterol or saturated fats, making them a great healthy snack or addition to any meal.
3. Vitamin C: Analyses of the first, second, and third National Health and Nutrition Examination Surveys (NHANES-I, NHANES-II and NHANES-III) correlated higher vitamin C intakes with lower death rates from cardiovascular disease (CVD), lower prevalence of CVD, and reduced risk of angina. Strawberries provide 94 mg of vitamin C per cup of sliced fruit--more than 150% of the Daily Value.
4. Folate reduces serum levels of homocysteine, a substance that has been observed to be an independent risk factor for CVD. Even a very small elevation of homocysteine is estimated to increase CVD risk by 60% in men and 50% in women. Strawberries provide about 30 ?g of folate per cup of sliced fruit.
5. Dietary fiber - both soluble and insoluble - is considered by the American Heart Association to be important for heart health. Epidemiological studies have reported that people who eat higher amounts of total fiber have lower risk of cardiovascular disease and hypertension.
6. Antioxidants reduce the oxidation of LDL (low density lipoprotein) cholesterol, one of the critical steps in the development of CVD. Science has demonstrated that oxidation of LDL greatly accelerates several steps in the process of atherosclerosis, the build-up of fatty lesions or "plaque" on artery walls. A recent study showed that a highly concentrated strawberry extract inhibited oxidation of human LDL by as much as 86%.
7. Certain flavonoids that occur in strawberries, including quercetin, kaempferol and anthocyanins, have been shown to inhibit platelet aggregation, an abnormal "clumping" of the blood particles responsible for clotting. These flavonoids appear to slow the clotting process, thereby decreasing the tendency to form thrombi and reducing the risk of stroke.