Peanut kernels can be supplied in either long or round forms.
We can supply different sizes of blanched peanuts, peanut kernels, peanuts in shell and roasted peanuts with good quality and at competitive prices.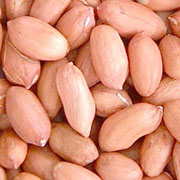 Peanut Kernels
Long Shape: 24/28, 28/32, 34/38, 38/42, 45/55
Round Shape: 35/40, 40/50, 50/60, 60/70, 70/90
Si Li Red peanut kernels: 40/50, 50/60, 60/70, 70/80, 80/90, 90/100, 100/120
Origin: Shandong province
Packing: in New Strong 25 kg polypropelyne woven bags with inner 2*12.5 kg vacuum bags
Moisture: 8.5% max
Admixture: 1.0% max
Imperfect Grains: 5.0% max
Health Benefits
Peanuts help protect against heart disease, contribute to lowering blood cholesterol and help maintain a healthy weight. Peanuts and peanut butter are a rich source of the essential nutrients magnesium, folate, Vitamin E, potassium and also contain resveratrol-a plant chemical which is thought to help the body protect itself against heart disease and some cancers. Peanuts are also an excellent source of protein and have a very low glycemic index (GI) of just 14. By eating peanuts, glucose us released into the blood more slowly, which combined with peanuts' high levels of fibre and protein, leaves the consumer feeling fuller for longer.