What is and Where to Buy Crystallized Ginger
Crystallized ginger is ginger that has been dehydrated. After the drying process, the ginger will be preserved a sweet sugar coating, which make the dried ginger a crystallized, rock candy-like appearance. The crystallized ginger is different from the pungent fresh ginger in taste, smell and flavor. Ginger is one of the oldest foods dating back to the earliest records. Through the history, it is recommended by doctors and dietitians. However, it is a great pity that not every like the ginger, while the crystallized ginger is a better choice as snack.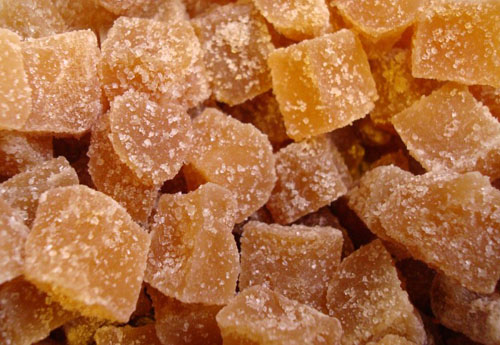 Where to buy the crystallized ginger?
Where to buy the crystallized ginger is the second common question next to what is crystallized ginger. If you are a crystallized ginger wholesale or sell crystallized ginger in bulk, I think that buy crystallized ginger online is advisable. If you concern the crystallized ginger quality, we can send some samples to you freely to help you get a general and clear idea about the crystallized ginger.
What are the functions of crystallized ginger?
Crystallized ginger serves a wide variety of natural pharmaceutical purposes and provides health information for women. The product helps to ease the discomfort caused by indigestion, colds and nausea, specifically sea sickness and motion sickness. The crystallized ginger can be ate directly and drink in a cup of tea and other recipes.