Crystallized ginger makes sure you can have natural snacks and health guarantee together. Crystallized ginger is advisable for you to share with you friends and relatives.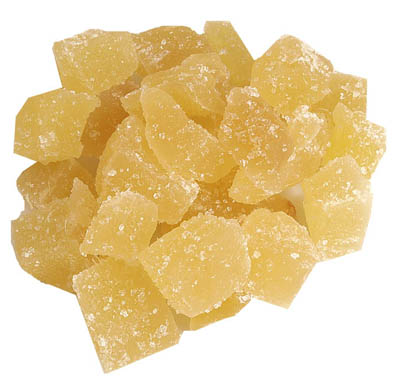 Origin: China
Packing: 20 kg/carton, 11Mt/20'FCL.
The Health Benefits of Crystallized Ginger:
Crystallized ginger serves a wide variety of natural homeopathic purposes, according to Project Aware, a website that provides health information for women. The product helps to ease the discomfort caused by indigestion, colds and nausea, specifically sea sickness and motion sickness. Ginger is also used to strengthen the heart, improve blood circulation and strengthen the arteries and capillaries, according to Nutritional Supplements Health Guide. In addition, many older women claim the product reduces hot flashes significantly.
Although crystallized ginger can be eaten as-is, many consumers enjoy using crystallized in a cup of tea. Adding the product to tea lessens the full-bodied taste and maintains all the benefits of solidified ginger. To use ginger in tea, add one ounce to a mug of hot coffee. If this does not melt the ginger, heat the ginger in a small saucepan and add the syrup to a mug of tea.