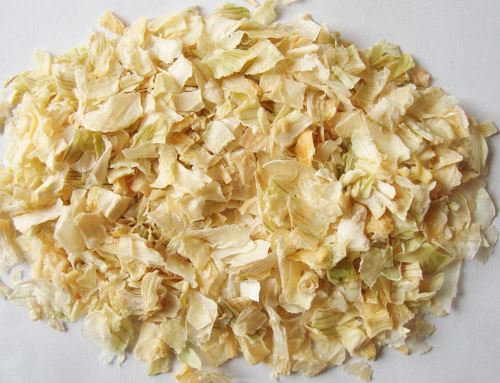 Specifications:
Color: Creamy white;
Moisture: 6.0% max;
Sulfur dioxide: <50ppm;
Size: 10x10 mm, 5x5 mm;
Packing: 18kg/carton;
Quanity: About 15 Mt/40'FCL.
Onion is one of the most important commercial vegetable crops grown in China. The outstanding characteristic of onion is its pungency. The dehydrated onions flakes compared with other fresh vegetable are relatively high in food energy, protein content and rich in calcium. The dehydrated onion flakes help you to become a professor in cooking.
Health Benefits of Dehydrated Onion:
The sulfur in onions has been linked to cardiovascular health, by preventing blood platelets from clogging. It has been also linked to lower cholesterol, something many with excess fat are at risk of getting.
Many types of onions work to prevent the growth of cancerous tumors stemming from various forms of cancer. In addition to its cancer-fighting properties, many types of onions can increase bone density to help you avoid injury.
When inflammation is your problem, onions may be the answer! Onions have many anti-inflammatory properties that fight against many illnesses. The anti-oxidants found in onions provide a defense back up to keep your immune system working properly. Onions prevent fatty acids from being oxidized, which has the effect of producing less inflammation in various parts of the body.
To reap these health benefits of onions does not require eating several onions each day as you would an apple. Simply adding onions in a few strategic places throughout your meals can help you take advantage of the nutrients in onions.