Dried Goji Inspection Report
The following is the dried goji inspection report from AGICO dried fruits department, hoping it will give your a clear and intact flowchart about the inspection.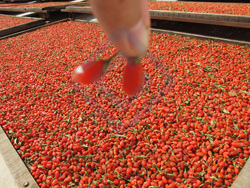 Date: Aug.29.2012
Weather: sunny
Temperature: 18-29 centigrade
Place: Ningxia
Contact No.:GC02Z120808
Product: Goji berries 350
Condition: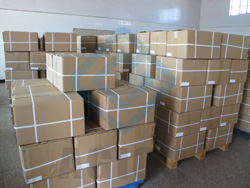 The welled packed goods are stored in the dry, clean, well-ventilated warehouse.
Quantity:
Total quantity: 560 cartons (30 ctns*18 pallets & 20ctns*1 pallet)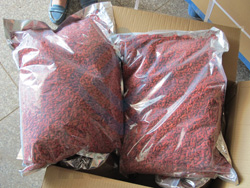 Packing:20kgs cartons with inner 4*5kg food grade Aluminium Foil Packing



Weighting: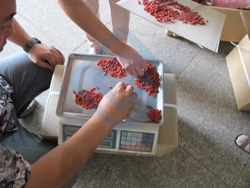 Selecting 10 cartons at random and weight the cartons are eligible.
Size:opening three bags and inspected the counts three times, the counts are:334grains/50g,342 grains/50g,331grais/50g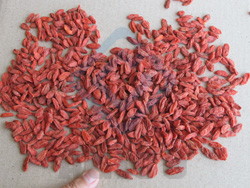 Appearance: basically uniform Counts, good flavor, good taste

Moisture: 14.5% max

Conclusion: Quality of goods was in conformity with the specification of the contract No.:GC02Z120808
Loading Date: Sep.10.,2012
Loading Port: Tianjin port
Weather: sunny
Temperature: 20-25 centigrade
Loading pictures: