Dried Diced Apple Sold in Mexico
Good news from dried food department, Miss Xue has signed a contract with a customer from Mexico about dried diced apples, cost about USD 40,000. Dried diced apples are always one of the best sellers in AGICO, because their rich nutrition and various usages. Dried diced apples are widely used in desserts and baking. They are also excellent ingredients to make porridge and oatmeal. The dried diced apples are divided into 10*10*10mm and 5*5*5mm. If you have any special requirements, we are able to make unique dried diced apples to meet you demands.
Nutrition Facts (serving Sizes 30g)
Among per serving
Calories 140
Total fat 0g
Saturated fat 0g
Trans fat 0g
Cholesterol 0mg
Sodium 60mg
Total carbohydrate 37g
Dietary carbohydrate 37g
Sugars 23g
Protein 1g
Vitamin A 0% Vitamin C 8%
Calcium 2% Iron 4%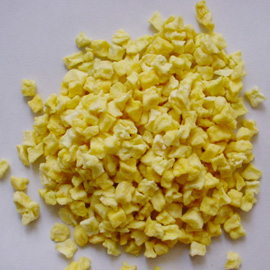 Copy Right © Anyang General Foods Co., Ltd.