A Roasting Pumpkin Seeds Recipe for You
Pumpkin seeds are one of the most popular snacks in the whole world for rich nutrition and cheap price. It is also simple for you to make your own pumpkin seeds at your home. In the following is a pumpkin seeds recipe, and I hope it is a great help for you.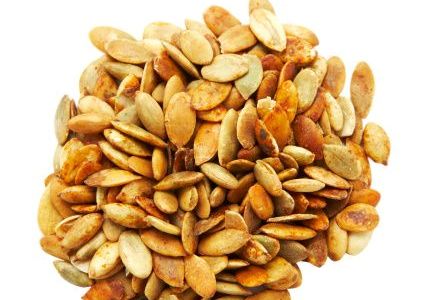 The recipe is roasting pumpkin seeds. Toasted and salted, pumpkin seeds have a nutty flavor. They're even better flavored with sweet and savory spices in my opinion. The following are steps to make the roasting pumpkin seeds. Rinse pumpkin seeds under water and pick out the pulp and strings. This is easiest just after you've removed the seeds from the pumpkin, before the pulp has dried, which will save your time and effort. Place the pumpkin seeds in a single layer on an oiled baking sheet, stirring to coat and make sure you can get pumpkin seeds without break. Sprinkle with salt according to your favor and bake at 300 degrees F until toasted, about 25 minutes, checking and stirring after 10 minutes. Then you and your family can enjoy the delicious and natural roasting pumpkin seeds when you are watching movies or go traveling.
In the coming day, I will introduce more recipes about pumpkin seeds and hope them will help you lot.