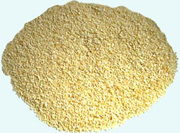 Specifications:
Sizes: 8/16 26/40 40/60;
Moisture: 6.0% max;
Sulfur dioxide: <50 ppm;
Inner packing: 2x12.5kg/aluminum foil bag
Outer packing: 25 kg/carton
Quanity: Abt 18 Mt/20'FCL
Dehydrated garlic granules can be added directly to most foods or blended with salt, pepper and other seasonings. One pound of dehydrated garlic granules possess flavor equivalent to that of five pounds of raw prepared garlic. Moreover, in certain sausages, cheeses, breads, sauces and snacks, dehydrated garlic granules become so important that they characterizes the entire recipe.
Health Benefits of Dehydrated Garlic:
1,Strong flavored, garlic cloves contain many noteworthy minerals, vitamins, anti-oxidants, and phyto-nutrients that have proven health benefits.
2,Its bulbs contain organic thio-sulfinites such as diallyl disulfide, diallyl trisulfide and allyl propyl disulfide that can form allicin by enzymatic reaction, which is activated by disruption of bulb (like crushing, cutting etc).
3,Laboratory studies show that allicin reduces cholesterol production by inhibiting HMG-CoA reductase enzyme in the liver cells.
4,Allicin also decreases blood vessel stiffness by release of nitric oxide (NO); thereby bring reduction in the total blood pressure. It also blocks platelet clot formation and has fibrinolytic action in the blood vessels, which helps decrease the overall risk of coronary artery disease (CAD), peripheral vascular diseases (PVD) and stroke.
5,Research studies also found that consumption of garlic is associated with possible decrease in the incidence of stomach cancer.