The Process to Make Dried Goji Berries
Goji as one kind of berries, it is difficult to store them for a long time. Dried goji berries seem a good way to preserve them. However, weather and surroundings have impact on the natural dry method, which is the best to get healthy and green goji berries. It takes a longer time to dry goji berries compared with microwave.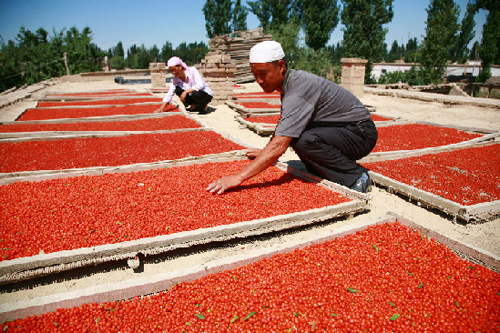 Put the goji berries on the manmade sieve made by wood and bamboo, and make them in a thin level. Put goji berries under sun or the place with good atmospheric conditions are food for them. During the process, make sure every side has chance to enjoy the sunshine or breeze, so as to get dried goji berries quickly and perfectly. One thing keep you mind is the wash the dried goji berries before you dry them.
The Ningxia Hui Autonomous Region, China is famous for the best dried goji berries and possesses suitable weather to dry goji berries. In Ningxia, it usually takes 5 days to dry goji berries under the circumstance of moisture less than 30%. If you live in a city where weather is not suitable, you can put goji berries in refrigerator, which is also optional.