Recipes of Galette with Dried Pears and Dried Cherries
Have you ever worried about how to treat your unexpected visitors? Galette with dried pears and cherries would be an excellent choice for you. All you need to do is making dough in front you can keep it for a couple of days in your fridge or a couple of months in your freezer. Besides dried pear and cherries, whatever you have in your fridge can be used as the topping.
Ingredients for the dough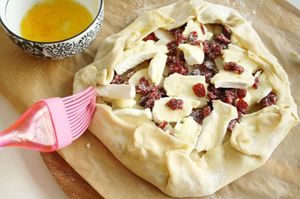 - 1 1/2 cup of all-purpose flour
- 1Tbs. sugar
- 1/2 tsp. salt
- 1/2 cup of unsalted butter on room temperature, cut into small pieces
- 1/3 cup of cold water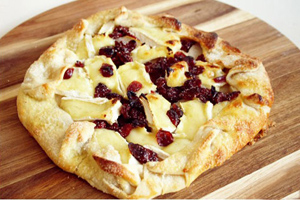 Ingredients for the topping
- 3cups of dried pears
- 1 cup of dried cranberries
- 1/2 chess
- Sugar
- 1 egg
1. Roll out the dough into a big circle from around 1/4 inch thick. Put dried pears first layer on the dough. Leaving about 1 1/2 inch of the edge uncovered. Put the dried cherries on top of that. Slice your chess and put the pieces on your galette. Finish with some sugar.
2. Fold the edges of the dough inwards. You can do this all fancy or just free handed. I like a natural look on my galettes. Wisk your egg and brush it on the dough. Finish with a little bit of suggar.
3. Bake your delicious galette in the oven for about 10 minutes.