Dried Kiwi Slices for Patients
Fresh fruits usually the first come to our mind when we visit patients. We take it for granted that fresh fruits are rich in nutrition and good in taste. However, fresh fruits cannot be kept for a long time, especially in summer, sometimes they inevitably go bad. There is no such concern when come to dried fruits. Dried kiwi slices are recommended gifts visiting patients.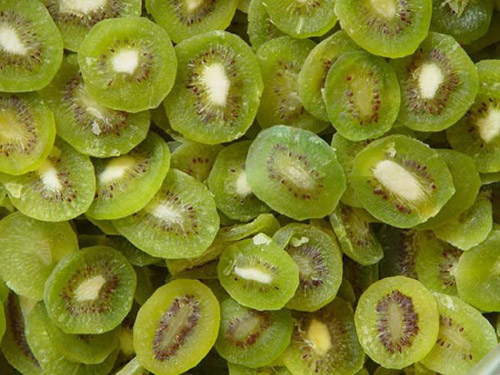 No matter fresh kiwi fruits or dried kiwi slices, both them are great source of vitamin and nutrition, good for patients recovery. The dried kiwi slices can be kept for a long time, at least 12 months, and longer in refrigerator. Food waste is one big concern of the world, and governments have paid lots attention to it. As of 2011, 1.3 billion tons of food, about one third of the global food production, is lost or wasted annually. Loss and wastage occurs on all steps in the food supply chain. In low-income countries most loss occurs during production, while in developed countries much food – about 100 kilograms per person and year – is wasted at the consumption stage. Due to quality and features of fresh fruits, waste, to a certain extent, is inevitable. Dried kiwi slices, with same nutrition value, are a better choice.
Dried kiwi slices are also wonderful ingredients in making breads, cookies and cakes. If you are interested in our products, contact us. We are a dried kiwi fruits slice wholesale in China.