An Introduction to Candied Ginger
Hot weather is creeping in on us and with that, unfortunately, comes the sultry weather and flu season. Besides being a sanitizing warrior, there are other things you can do to stay healthy this winter. Staying active, getting a proper amount of rest, and eating balanced meals are just a few ways to stay in great health. Adding more antioxidants and vitamin C to your diet this summer is also a smart choice. Ginger has numerous therapeutic properties including antioxidant effects, immune boosting abilities and it is a natural anti inflammatory! Candied ginger is popular in summer, especially girls want to keep a diet and good body.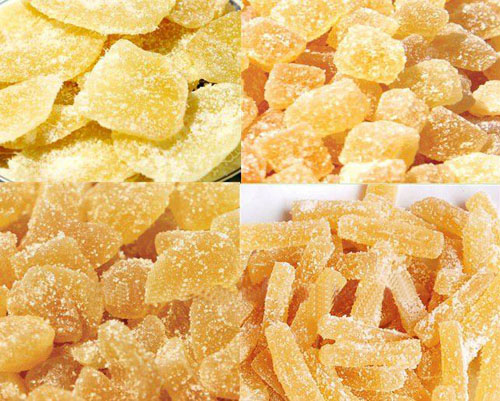 There are many ways to get a spicy, gingery flavor into baked goods. One of the easiest is to add dried, ground ginger right into your batter or dough, just as you might add in ground cinnamon or any other dried spice. This adds a lot of flavor, but if you want even more of a gingery bite, opts for grating in fresh ginger, which has a stronger flavor. My favorite way to increase the ginger flavor in a baked good or other sweet recipe is to add in candied, or crystallized, ginger.
Candied ginger is thinly sliced ginger that has been cooked in sugar syrup until it becomes sweet and tender. It retains its gingery bite, but it takes on a sweetness that ginger just doesn't have by itself. Once prepared, the ginger can be used as it is, or it can be dipped in sugar to add a crisp, sweet coating. After it has been cooked, the ginger is easy to slice and can be diced up with a knife and added to recipes. Unlike fresh ginger, which can have a flavor that is a little too aggressive for some cookie recipes in big chunks, adding chunks of candied ginger to a cake or cookie can add a lot of spice tempered by just the right amount of sweetness.
I always assumed that candied ginger was ginger that was simply cooked in syrup and crystallized ginger was the type that was dipped in sugar. Some producers label their products that way, but it seems as though the two terms can be used almost interchangeably. The products can definitely be used interchangeably in recipes. I'll still use "crystallized ginger" in my recipes because I like that extra sweetness and crunch that that sugary coating adds to the spicy bite of the ginger.