Apple slices are available in three apple varieties: Fuji, Qinguan and Gala. These threes kinds apples are best materials to make apple slices. It is said that apple skin contains more nutrients than flesh. In order to get high quality apple slices, we have tried our best to get the apple slices with skin and core.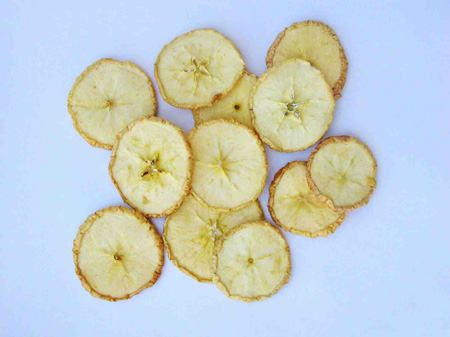 Specifications:

SO2: 600 ppm max or 1,000-2,000 ppm max per requirements;
Moisture: 18-22%;
Packing: in 10 kg or 20 kg carton inner with food grade poly bag.
Health Benefits of Apple Slices with Core and Skin:
1. The apple is a good source of dietary fiber, providing you with nearly 20% of your needs for the day.
2. There are two types of dietary fiber: insoluble and soluble fiber. About 25% of the fiber found in apples is soluble. This type of fiber may help reduce cholesterol by binding to dietary fat and preventing it from being absorbed by the body.
3. Research also suggests that this fantastic fiber may also help regulate blood sugar levels.
4. Flavonoids, a specific class of phytonutrients found in apples, apple juice and apple sauce, have been associated with reducing the risk of cancer, heart disease and Alzheimer's. According to researchers at Cornell University, almost all of the apple's antioxidant activity comes from these recently revealed phytonutrients.
5. Apples are a good source of the antioxidant Vitamin C that helps to maintain a healthy immune system. This powerful antioxidant aids in defending the body against damaging free radicals, those nasty compounds that accumulate in our bodies and wreak havoc on our healthy cells.
6. Apples and apple products contain between 3% and 8% of the daily value for potassium. Consuming 3500 milligrams of this essential nutrient each day may help reduce high blood pressure.