Today Star aniseed (or Star anise) is almost exclusively grown in southern China and Indo-China. It was first introduced into Europe in the seventeenth century. The oil, produced by a process of steam extraction, is substituted for European aniseed in commercial drinks.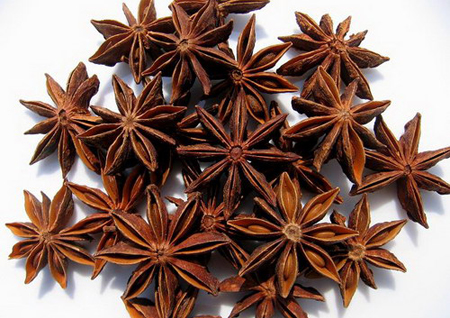 Specifications:
Admixture: 2% max
Moisture: 14% max
Broken: 8% max
Color: reddish brown
Packing: in carton (net weight 10 or 20 kg)
Quantity: About 7 Mt/20'FCL
Usage of Star Anise
Star anise plays a key role in the slow cooked dishes that characterize Eastern Chinese cuisine. Its licorice flavor enhances red cooked dishes, as well as eggs simmered in black tea. Star anise is one of the spices in five-spice powder.
Outside of China, star anise is featured in several of Vietnam's signature dishes, such as Pho Bo soup. It is also the secret ingredient in many Indian stews and curries. Star anise can replace regular anise in western recipes.
Medical Uses of Star Anise
In traditional Chinese medicine, star anise is prescribed as a digestive aid and to help cure colic in babies. More recently, Shikimic Acid, extracted from star anise, is one of the chief ingredients in the antiviral Tamiflu drug used to fight avian influenza.