The dehydrated horseradish powder is made of dehydrated horseradish flakes. Having dehydrated horseradish powder, you can make your own special dishes and cakes at home.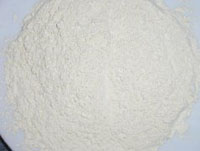 Specifications:
Size: 80-100 mesh, 100-120 mesh;
Moisture: 6% max;
Sulfur dioxide: 50ppm max;
Packing: two alu-foil bags of 12.5 kg net each inside the CTN
Quantity: 14Mt/20' FCL

Benefits of Horseradish Powder:
To prepare the horseradish powder the horseradish root is cut into tiny squares which are left near a heating stove to dry up. After that they get grained. The whitish powder can be stored, however with the passing of the time it loses some of its characteristics.
Another very useful mixture for cases of facial paresis or seborrhea is horseradish vinegar, which is obtained by filling a bottle with grained horseradish over which apple vinegar is poured until it gets filled to the top. The mixture from the bottle is to be consumed in small quantities to treat the abovementioned illnesses.