Grape seed oil is obtained from fresh grape seeds by squeezing and refining the seeds at a low temperature. The oil's fat content is 90 percent unsaturated fat with a high linoleic acid content which work to decrease cholesterol content in the blood. In fact, its linoleic acid content is the highest of any animal or vegetable oil. Grape seed oil is also high in vitamins E, A and D. The oil is also valued for its high smoke point. It can be used in cosmetics, and is often applied directly to the as a massage oil. It helps keep the skin smooth and reduces the appearance of lines.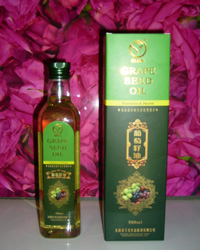 Specifications:
Color: ≤Y35 R4.0;
Acidic Value: 2.0 mgKOH/g max;
Impurities: 0.2% max;
Heating test (280℃): The color of oil may becme darker but not black, with minute amounts of precipitation;
Peroxide value: 12 m mol/kg max.